Exporters to see better days as demand rises
2013-12-12 13:15:15Source:China DailyAuthor: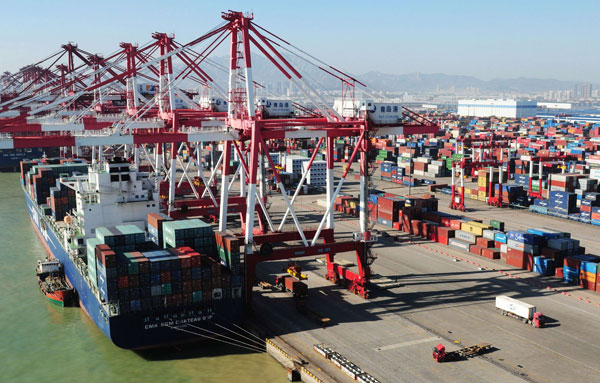 Foreign ships are busy unloading at the Qingdao Harbor, Shandong province. The International Monetary Fund predicted in October that world trade will grow by 4.9 percent in 2014, compared with 2.9 percent this year. Yu Fangping/ for China Daily

China's foreign trade is likely to grow faster next year as overseas demand improves, experts said.
The consensus forecast is for total trade growth of up to 10 percent. In the worst-case scenario, total trade may only expand about 8 percent, equal to this year.
China is the world's largest exporter and second-largest importer.
Although the improvement of overall foreign trade will not be hugely significant next year, the growth pace will still outstrip the world average.
Wei Jianguo, vice-chairman of the China Center of International Economic Exchanges, a government think tank, said: "Foreign trade may expand 10 percent next year, if the government provides powerful support."
Huo Jianguo, president of the Chinese Academy of International Trade and Economic Cooperation, a think tank of the Ministry of Commerce, said that "China's foreign trade in 2014 will be slightly better than this year, with overall trade growing 8 to 9 percent and exports continuing to outpace imports".
Long Guoqiang, a researcher at the Development Research Center of the State Council, said that "overall trade will grow at the same pace as this year. It will be very satisfactory if exports could rise 8 percent next year".
A report from the State Information Center said on Dec 2 that China's overall trade in 2014 will grow at the same pace as this year, with exports expanding 9 percent and imports increasing 7.5 percent, yielding a full-year trade surplus of $310 billion.
Earlier this year, the government set an 8 percent trade growth target for 2013. The foreign trade of the world's second-largest economy expanded 6.2 percent year-on-year in 2012, missing the government's 10 percent target.
Total foreign trade went up 7.7 percent to $3.77 trillion in the January-November period, according to the General Administration of Customs. Exports increased 8.3 percent to $2 trillion and imports rose 7.1 percent to $1.77 trillion, yielding a trade surplus of $234.15 billion.
The International Monetary Fund projected in October that world trade will grow 4.9 percent in 2014, compared with 2.9 percent this year.
"Overseas demand won't show a big improvement next year. But moves to follow up on the Third Plenum's comprehensive reform plan, such as support for customs procedures, loans and insurance, will give a forceful boost to exports.
"At present, it's crucial for Chinese exporters to retain their overseas market shares, because regaining those positions will be very difficult once lost," said Wei, who's also a guest economist of China Daily.
"Foreign trade in 2014 will be slightly better than this year. The government will stabilize the growth of exports and imports with different measures, while speeding up the transformation and upgrading of the nation's trade.
Analysts cautioned that the overstatement of trade figures in the first half of this year, caused by the inflow of speculative funds disguised as trade payments, was likely to have recurred in November.
"The government warned of potential difficulties when setting this year's trade growth target. The external environment is actually better than predicted," Huo said.
"In 2014, an economic recovery in developed countries, driven mostly by currency devaluation, will mean reduced demand for Chinese products. In international markets, Chinese enterprises are facing increasing competition from emerging economies," Long said.
Wei added that trade friction with the United States and European Union, as well as emerging economies, is choking off some Chinese exports.